Citrine (Brazil) custom cut @ The Cutter's Desk
Citrine is a beautiful yellow / orange gem that is part of the Quartz family. It is a fairly common gemstone and it can be found on very large crystals with fantastic clarity. As a result, it is not uncommon to find large fancy cut Citrine gemstones.
The piece of rough that I started with was really interesting. It had a few surface blemishes and some cracks, so I started to pre form it to remove the imperfections and to get the overall shape. Pre forming means just using the grinding disk to grin the stone away.
The interesting thing about this stone started to reveal itself once I had completed the pre form. In the picture below, it is clear to see that the colour of the Citrine is actually just a thin slice at the top of the stone. Since the Citrine gemstone is part of the Quartz family, what this actually shows is clear Quartz down the bottom with Citrine at the top.
Once everything was pre formed and ready to go, it was obvious that this stone wanted to be an oval shape. So I picked an oval barion design but I had to be very careful to leave the colour of the stone right down in the bottom tip of the stone. If I don't do this, the stone will not show a uniform show of colour.
The below pictures are cutting the pavilion (bottom of the stone), transferring the stone to cut the top, and then finally cutting the crown of the gemstone.
The finished stone ended up 4.35cts. Pay attention to where the colour of this Citrine is coming from. Right in the middle is a circle of orange and that provides colour to the entire stone.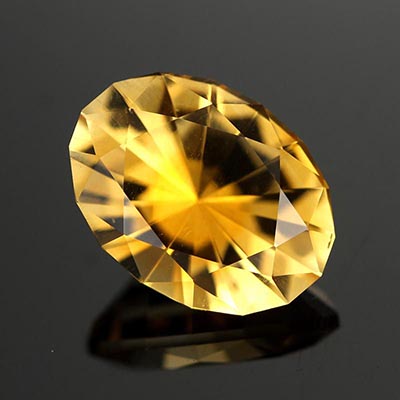 Strine – Brazil: Cutting Sequence