MARCH BIRTHSTONE – AQUAMARINE
Aquamarine is the March birthstone and is one of my favorite gemstones. It is the blue variety of the Beryl family and it has one of the most pleasant hues available on the gemstone market.
It is said that an Aquamarine stone increases awareness, quick response and eases communication problems. The healing properties of the March birthstone are reputed to be effective for health problems relating to throat problems and stress-related illness.
March Birthstone Color
The amount of iron within the Aquamarine stone structure will influence the color of the stone. This is why the color varies between blue and green, it also depends on where the iron impurities are located and the concentration of iron within the beryl crystal structure. With the advancement in heating technology, aquamarine stones can be heat-treated in order to drive out the green color and leave a more desirable darker blue. Irradiation can reserve this process.
In order to make Aquamarine displays a "cat's eye" effect (aka asterism), they are cut as a cabochon. When compared to the relative abundance of this gem, the costs of producing synthetic aquamarine are very high, that is why it is hard for you to find synthetic aquamarine on the market. Aquamarines are also known for being relatively free of inclusions.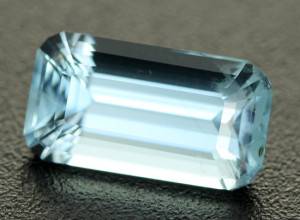 SHOP ALL AQUAMARINE